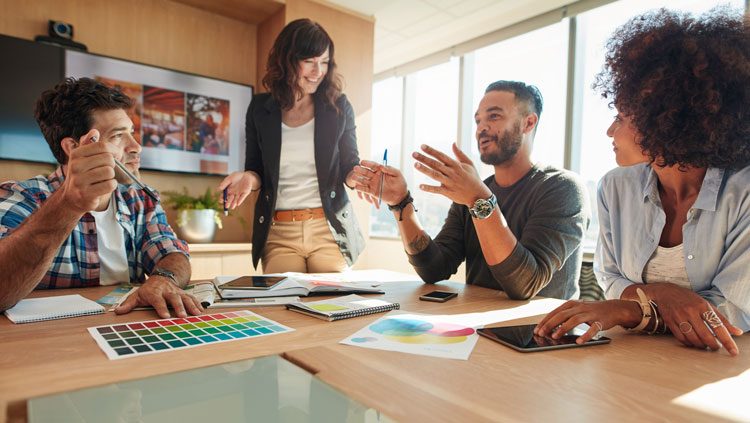 Moving offices is a perfect opportunity to create a brand new working environment for yourself, your employees and your clients.
Australians on average spend at least 50 hours per week at work. Because of the upward trend in working hours companies need to design better workplaces where employees feel comfortable and motivated. Also clients need to see an inspiring workplace and be reassured they have made the correct choice in employing your services.
Models and plans for your office design
In most cases an office interior designer will supply spatial concept design plans combined with photo realistic 3D renders or models. This will help you visualise what your new office will look like before construction begins.
Designing for accessibility and compliance
All new offices need to comply with Australian Standards and meet the requirements of the Building Code of Australia. For that reason your interior designer must have a detailed understanding of current compliance legislation.  Our designers work closely with private certifiers and councils to ensure all our new offices comply with current legislation.
An office colour scheme must also comply to Australian Standards and The Building Code of Australia. We often get asked to paint the interior walls or partitions the same colours as the doors. Under current regulations AS1428.1 2009 design for access and mobility the walls need to have a significant contrast to the doors.
Colour and comfort
A well designed office interior is practical, easy to navigate and stylish. The colour palette selected for any office has the potential to impact on everything from employee productivity to workplace well-being. However, that doesn't mean you can simply apply a coat of paint and magically obtain these objectives. Our office designers understand the relationship between colours and other elements like lighting, textures, furniture and also the companies brand.
Activity Based Working (ABW) design
A good office interior designer will  take the time to listen, be innovative and allow for future growth. ABW design incorporates flexible multipurpose areas or zones. A breakout area in the morning might be a conference facility in the afternoon and transformed into a yoga studio for staff in the evening.
We take a holistic approach to designing modern office environments that reduce stress and promote productivity.
Stay tuned for The Ultimate Guide to Office Fit Out Step 8, Negotiate your office lease.