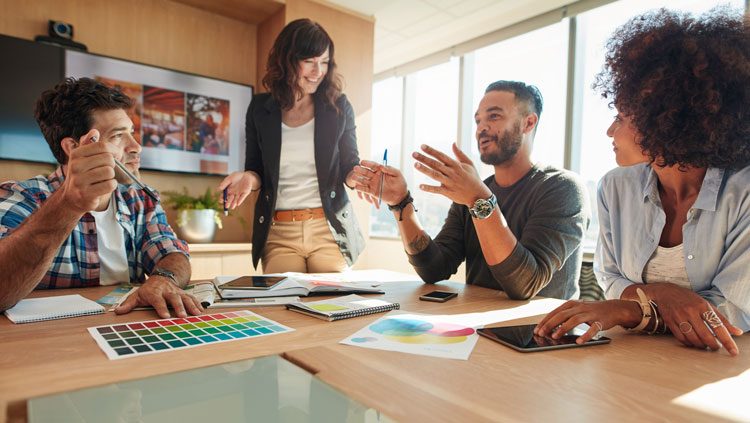 With Australians spending upwards or 50 hours a week at work, employers need to offer a space where people feel welcome, comfortable and motivated.
When you move offices, you have the opportunity to create an environment where you and your staff will thrive. Working with an interior design team that specialises in collaborative, activity based work spaces will result in an office fitout that reduces stress and promotes productivity.
Your interior designer will work with you on the following:
Models and plans for your fitout
When you engage an interior designer, they will supply you with spatial concept plans, potentially using 3D renders to show you how your equipment, furniture, storage and staff will fit into the space.
At Apex Executive Interiors, our office designs incorporate elements like activity based workspaces, breakout areas and private rooms. Our designs are carefully laid out, creating office plans that allow for growth.
We look to be innovative, flexible and forward thinking with each proposed office layout. As office space is expensive, Apex Executive Interiors design spaces that can be multipurpose. With strategic office design, you can have an area which is a breakout area one day and a conference facility the next. In the evening, it can be converted to a yoga studio for staff to unwind.
Accessibility and compliance
All offices must comply with national standards and meet the requirements of the Building Code of Australia (BCA) and  Australian standards (AS).
Your interior designer must have a detailed understanding of current legislation and will work with you to make sure these requirements are met.
Compliance with all legislation, including but not limited to designing for equal access and mobility (AS 1428.1 2009) for people with a disability is essential for your new office space. At Apex Executive Interiors, our designers work with private certifiers and local council to ensure your new office space ticks all the boxes in this area.
Colour, comfort and connectivity in office design
Effective interior design for offices is about more than creating desk layouts and choosing fabric colours.
A well executed office interior is practical, easy to navigate and stylish. When you work with your interior designer, they will recommend colours and decor that reflect your function, your purpose and your brand. The finished product will reinforce company culture and create a positive, welcoming environment that is conducive to productivity.
Your colour scheme must also meet legislative requirements. Many people are surprised, for example, when we tell them that they can't have the walls the same colour as the doors due to regulations covering design for equal access and mobility for the sight impaired.
From fabric to functionality, your office interior design has the power to increase staff satisfaction and retention. The right setup will foster an environment of collaboration, resulting in an engaged team of people who are excited to work together to achieve their goals and who look forward to coming to work each day.